Pita the Repeatah

Birthday

August 11

Favorite Color

Green

Pet

Squirmy

Hobbies

Repeating anything you say

BFF

Nunya

Favorite Toy

Tape Recorder

First Appearance

Meet Pita My LalaLoopsy Little
 Pita is Nunya's cousin. Meep got her for Valentine's Day.
Personality
Edit
She repeats anything anyone says.She probably has a parrot in her body,but, she just like to make people mad.
I get a discount!
It's Dat Smell!
this weird thing I know
Edit
Why does Katie hates hairbrushes?- answer: she's lazy.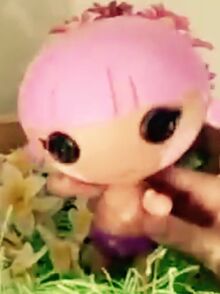 Ad blocker interference detected!
Wikia is a free-to-use site that makes money from advertising. We have a modified experience for viewers using ad blockers

Wikia is not accessible if you've made further modifications. Remove the custom ad blocker rule(s) and the page will load as expected.