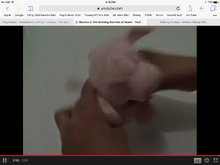 Booboo is Daisy's pet pig. She has a friend named Beeboo who is really her brother, but they act like friends. She is kinda chubby but she is still rocking her wigs. Booboo likes singing. Unlike BeeBoo she doesn't have a russian accent, . Booboo likes to tease Beeboo. Unlike most of the characters, Booboo is soft. We don't know when was Booboo bought.
She appeared in Booboo And The Washing Machine of Doom , Bitty Twins Fourth Birthday Party , Pop tarts with AG dolls , Pig gets Wig and lots of other videos. And her favorite color is zebra print. Her best friend is her owner, Daisy! 
Ad blocker interference detected!
Wikia is a free-to-use site that makes money from advertising. We have a modified experience for viewers using ad blockers

Wikia is not accessible if you've made further modifications. Remove the custom ad blocker rule(s) and the page will load as expected.